The recent months have been a steep learning curve unlike any other. Like many other businesses, when the pandemic hit and the country was forced into lockdown, we at CMA had to react fast. Our team had to quickly adapt to working from home conditions, in order to remain fully operational during the lockdown period.
Whilst recruitment took a backseat for some businesses, many others had hiring intentions to help them respond to the pandemic and their general business demands. It was critical we were able to support them with their needs. The CMA team won the daily battles against remote working, home schooling and self-isolation, to offer guidance, support and recruitment solutions to our client and candidate base.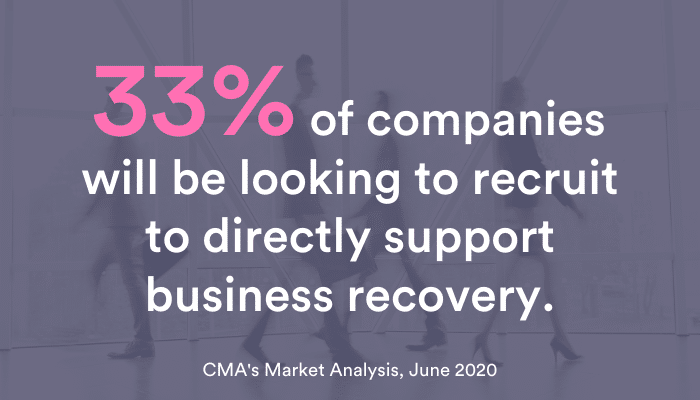 As a business we wanted to better understand the factors driving the changing recruitment patterns so we conducted a detailed Market Analysis project. This involved over 300 interviews with businesses across the South. As part of this report, we found that 33% of clients who took part will be looking to recruit to directly support business recovery. The survey was undertaken in early June and we're pleased to say as we move through August, a far greater proportion of our client base is actively hiring for a mixture of both permanent and interim roles.
Looking to the temporary & interim market
We have noticed a material increase in interim and temporary roles over the past few months, particularly for finance roles. So what is Interim Finance?
Put simply, it is the temporary provision of highly skilled finance professionals into organisations on a temporary basis. These temporary positions are often referred to as 'assignments', and can last anything from a matter of weeks to 18 months. Interim Finance is often used to refer to the senior temporary market (£40k+ salaries), whereas temporary recruitment refers to salary levels below this.

During volatile market conditions, the job market often sees an increased usage of temporary and interim resource. This was the case when the Global Financial Crisis hit and whilst it might be too early to understand the long-term effects of COVID-19, we have observed a similar pattern emerging.
Here at CMA we have seen less fixed-term contracts and more assignments when employers have been recruiting interim support, allowing for greater flexibility and a pacier recruitment process.
86% of interim candidates expect to see an increase in interim opportunities in the market (CMA's Market Analysis data, June 2020).
Which finance skills have been sought after as a result of the pandemic?
The COVID-19 pandemic has had an impact in some form on every business and in a number of cases it's had a widespread impact throughout the business. This has resulted in a variety of skills being sought after across the finance function.
In particular, we have seen certain skills being more requested than others. Although it is not limited to only these skills, the key ones are:
Credit control
Payroll
Cash flow management
Financial planning
In-line with our Market Analysis findings, our Executive division has experienced an increase in activity with organisations seeking business recovery and structuring experience. Alongside this, our HR division has received enquiries from businesses requiring support with restructuring and the transition from remote working back into the office.
The impact of remote working on recruitment and new hires
Both our clients and our candidates have asked us if office closures and remote working practices have impacted recruitment volumes? In short, the answer is yes in the short term but we have already seen a huge recovery in job volumes, in part driven by an increase in interim demand.
Organisations who have needed to bring in talent and a specific skill-set to support them at a critical time have adapted their recruitment and onboarding process remarkably well. This has involved embracing technology to communicate over a number of platforms such as Zoom, Microsoft Teams, Donut and Slack. Technology has also allowed CMA's temporary and interim candidates to be remote working ready.
Case study – Using temporary employees during the pandemic
CMA has been working closely with a well-known services business in the local Hampshire area to support their hiring needs. The company has been deploying a high number of temporary employees both before and during the COVID-19 pandemic. Initially this was due to ongoing 'business as usual' projects, however when the pandemic hit, the organisation immediately adapted to the situation and changed their service offerings to their customers.
This led to in an increase in finance transactions, resulting in the need for temporary resource to help keep things moving. Lynsey Walsh is a senior consultant in CMA's Accountancy and Finance division. She says: "Having an extensive pool of fully referenced, quality candidates has not only allowed clients to complete planned projects, it's meant that I have been able to help lots of candidates secure temporary employment, many working remotely."
One of these temporary placements was Rob. He found having a job to go to every day really important for both his bank balance and his mental health: "Having temporary work during such a troubling time has really helped me, not just financially, but mentally as well. Being able to get up and work each day has provided me with a much-needed routine and a sense of achievement. Also, being able to work from home means I am able to save money on travel."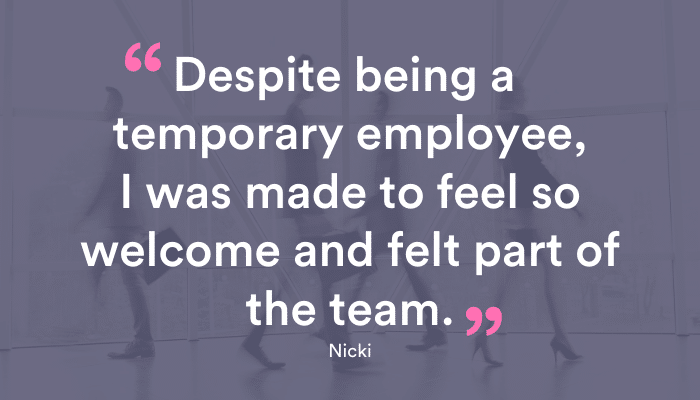 After losing his permanent role just before lockdown, Hasan was initially wary of taking on a temporary role, but he discovered it comes with many benefits: "I am able to gain practical work experience and improve my career prospects by taking the opportunity to do temporary work for different clients. I would not be able to gain such experience in one workplace usually, unless I have been working there for many years."
The new role came at a critical time for Hasan; with a new baby on the way the family needed to self-isolate at home, so being able to work remotely was hugely beneficial in more ways than one. He concludes: The benefits [of temporary work] really are endless such as developing new skills, building a network, and the flexibility around my lifestyle."
It wasn't just the employees who we were able to support either. The client says: "The immediacy of an experienced and flexible temporary workforce has been hugely beneficial to our business, and we look forward to continuing our successful relationship with CMA in the future."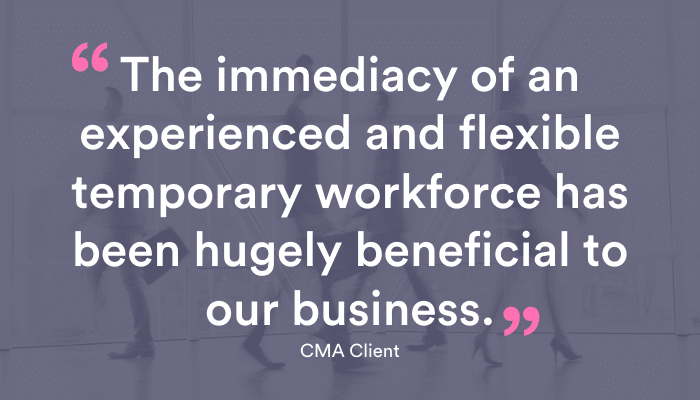 The past few months may have proved testing for many of us, but we have been very heartened to see so many businesses take the necessary steps they need to continue thriving in this challenging climate, whether it's recruiting temporary staff, sourcing the skills they are lacking or quickly adapting their work habits.
Read more of the key highlights from our Market Analysis project in greater detail. 
If you'd like to speak to us about how we can support your team with temporary resources for Accountancy & Finance roles to assist with business recovery, please contact one of our team to find out more.