The 2020 coronavirus outbreak and resulting lockdown in the UK brought with it a whole host of new challenges, experiences and changes to the business landscape – for many, their companies may never be the same again. We decided we wanted to understand more about the impact the pandemic has had on businesses in our region. So, with the help of our team we undertook a large-scale market analysis.
Our objective was to identify the key dynamics within the Southern business community, with a focus on employment-related matters. Our team of consultants undertook over 300 telephone interviews in early June. These interviews equated to 250 hours of call time; we spoke with both senior and junior management and had different sets of questions for each.
The resulting data covers the full breadth of businesses in the South, both in terms of size and sector; from SMEs to large £500M+ turnover companies. The range of sectors we included was large; covering leisure, retail, education and manufacturing businesses to name but a few.
"We wanted to mobilise our unique network to provide meaningful insights for the southern business community." says CMA's commercial director Richard Dibden. "Insights that we hope will help to shape decision making in the weeks and months ahead, allowing our clients to position themselves as market leaders in attracting and retaining talent in a post-COVID-19 world."
Overall we found that the average financial impact of the pandemic was a 49% reduction in turnover. It is of course far too soon to fully conclude on the influence of the pandemic, but of those interviewed, 59% believed they had already felt a bigger impact from COVID-19 than the global financial crisis (GFC) of 2007-2008.
The lockdown forced widespread remote working as is to be expected, with 67% of the South's workforces working from home. Of those interviewed 79% of businesses had furloughed employees utilising the government's Job Retention Scheme (CJRS).
We uncovered many intriguing stats from our analysis; but below we have outlined the five key highlights that will be critical for businesses in the south. If you would like to read the report in full then you will be able to download it in a PDF format from our site very soon.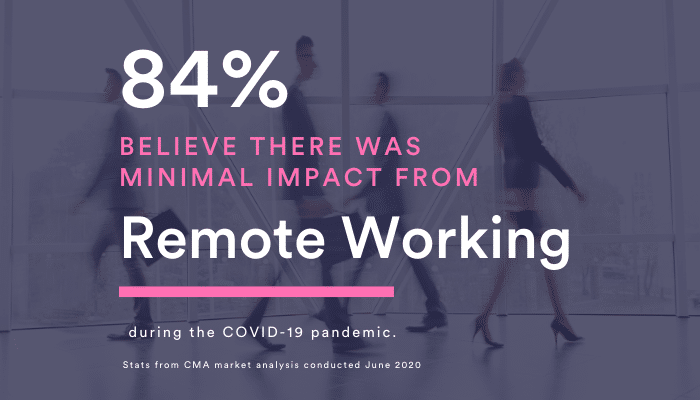 1. The impact of remote working
84% of businesses believed the impact of remote working was "minimal" and 44% were expecting to reduce their office space in the "short term".
One of the key findings from our market analysis was the impact of remote working on businesses in the south. Out of our respondents; 84% of businesses believed the impact of remote working was "minimal" and 44% were expecting to reduce their office space in the "short term".
Specifically in relation to outputs, only 18% of businesses believed they had seen reduced outputs from their teams, allaying the fears of many businesses – who pre-lockdown – were concerned employees may not work as hard away from the office or would suffer without face-to-face management support.
For employees, the hardest thing about remote working is "missing my team", just ahead of systems issues. 84% felt they had been as effective working in lockdown, of these, 38% strongly agreed to this statement.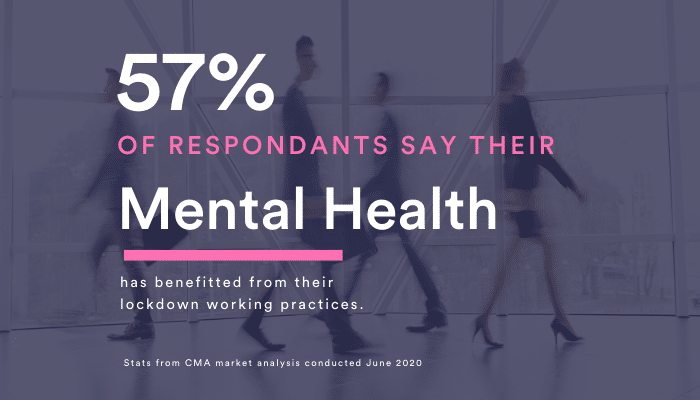 2. Mental health benefits
57% of respondents believe that their lockdown working practices have benefited their mental health.
Much of the recent news for HR and leadership teams has been raising concern over employees' wellbeing and mental health during lockdown; with challenges for employees including balancing childcare and isolation while working from home. In fact, of the employees we spoke to as part of our market analysis, 57% of respondents believe that their lockdown working practices have benefitted their mental health.
Flexible working patterns are one of the key perks of working from home; giving employees the opportunity to manage their own hours. This offers the chance to take daytime take walks, partake in family activities such as bedtimes and meals not usually possible with a 9-5 schedule, or even keep on top of chores.

3. More flexible working
91% of those interviewed would like to work from home at least 1 day a week going forward.
Lockdown has opened many businesses and employees' eyes to the benefits of remote working and flexible working arrangements. With these above benefits in mind we asked our respondents about how important flexible working would be for their roles moving forward and whether it had been a help or a hindrance to their job.
Neither the employees, nor employers we spoke to believe lockdown working practices have materially impacted outputs – driving a greater demand for flexible working practices. We asked participants whether they would prefer to continue working from home in a post-COVID-19 workplace and the results were almost unanimous.
A weighty 91% of those interviewed said they would like to work from home at least 1 day a week going forward and 46% would be willing to consider a pay cut to secure a flexible working arrangement.
4. Intention to leave
58% believe that the pandemic has increased their desire to find a new job, with company culture being the most important factor in selecting a new role.
The pandemic has given rise to an evaluation of priorities, with over half of the professional respondents (58%) considering searching for a new role and 50% seeing the interim route as an increasingly attractive pattern of working.
Company culture was identified as being the most significant factor in attracting and retaining talent by the professionals (32%), however, senior management deemed it their least concerning factor – indicating a clear disconnect between management and their employees in many of the South's businesses. Job security was second most important to employees when selecting a new role (22%), with salary/bonus considerations close behind (19%).
How culture is built and sustained in an increasingly flexible working environment will be a key question for businesses to tackle in the months and years ahead.
5. Localised supply chains
42% of businesses will be looking to actively create a more local supply chain.
There has been plenty of discussion in the media about supply chain localisation in recent times. A global event such as the COVID-19 pandemic acts as a strong catalyst for change for many businesses – and in this instance has highlighted the vulnerabilities in global supply chains.
Our market analysis found that 42% of senior management will be looking to actively create a more local supply chain in the post-pandemic landscape.
The future may feel somewhat uncertain at this present time but here at CMA we see positive signs for local businesses. Although the southern business landscape is emerging changed; businesses are recruiting to support their recovery (33%), and plans and systems are being put in place to ensure employees, managers – and in turn their companies – can thrive in the months ahead.
"We appreciate each business has its specific set of challenges, and that we are at the very early stages of understanding the impact of COVID-19," says Richard, "but we hope these in-depth results generate leadership discussion and in turn dialogue with their teams. Our desire is that this leads to greater engagement and improved working practices."
Please contact any of the CMA team if you'd like to understand more about the analysis and its results.